In collaboration with our partners, Seeketing develops Marketing Intelligence solutions for: Shopping Centers & Malls, Retailers, Airports and railway stations, Hotels and hospitals, Leisure parks, attractions, museums and other public spaces.
Our Seeketing Nodes are a step beyond other competitive technologies (such ibeacons or wifi routers). This new proximity marketing device are used to detect mobile devices and shoppers' behavior at physical locations. The solution works with APP or without APP both to detect device and interact with them.
Seeketing integrates the consumer's offline behavior with the use of mobile devices through Apps and mobile web (online behaviour) using a anonymous unique ID. It offers a new cross-media solution (offline + Web + App) which enables interaction through in-store push notifications, SMS/WhatsApp, and emails also, measuring the campaign's effectiveness and conversion at the point of sale (offline).
We provide insights and tools for:
- Improving the online-offline conversion rates of purchase
- Customizing communication and shopping experience
- Increasing visits and average purchase ticket
- Knowing the buying path and customers' behavior both instore and online
Seeketing is the first company worldwide to measure the showrooming effect (research offline, buy online) and ROPO effect (research online, purchase offline). Showrooming and ROPO effects are initially regarded as an issue by online or offline retailers, so the first step is to measure their current presence. Thanks to Seeketing tools, showrooming and ROPO can now become and opportunity to increase sales.
Our team is composed of researchers and experts in marketing and advertising effectiveness, technology, development, and mobility. Our technological developments are proprietary and created with cofunding of State Program for the Promotion of Talent and its Employability, included in the State Plan for Scientific, Technical and Innovation Research 2013-2016, of the Ministry of Economy, Industry and Competitiveness National Plan for Scientific Research, Development and Technological Innovation.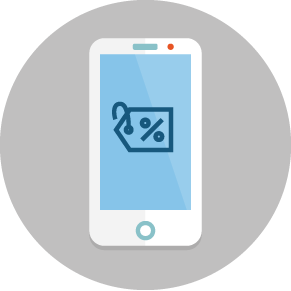 ---
Our Competitors
Currently there is no other solution in the world that unifies user to user behavior (unique ID) in the physical and online space, which in turn can send to each user a push notification to their APP or email, SMS/Wasap, and update content in screens located at the point of sale according to the visitors proximity and online/offline profile.
The solutions offered by other suppliers are based on the same technologies, where under a single case they can use a camera, a WIFI access point and an iBeacon, and although these solutions don't have a direct relation with the data of each of these systems, they are represented and portrayed together in one dashboard, as if the solution was integrated (omni-channel). But in reality these systems don't operate together and the users are identified separately by each system, which means a message can't be sent to the users via APP when they have only been detected by WIFI (Offline), nor can they know their online behavior. In addition, each solution is independent and therefore does not connect the visitors online and offline behavior, which is what allows us to obtain information about their tastes and interests.
Our solution of sensors with optical technology is the only one that is not integrated with Seeketing's unique visitor ID, but it allows our clients to obtain an accurate count by combining the data with the mobile interaction, without having to have a complex installation and at a lower cost than other solutions.
---
Tecnology
Our wireless devices
Seeketing develops plug & play devices combining cellular technology, WiFI, and Bluetooth for the detection and identification of unique visitors, all totally anonymous and invisible for the visitor. The use of these three types of signals allows us to provide a variety of coverage ranges and unprecedented ways of communication, as well as total flexibility to adapt to technological changes, to client needs, or to the physical environment.
The Seeketing nodes are easily installed in both indoor and outdoor locations, and their coverage range is adjustable (up to 15,000 m2 with Bluetooth wireless technology - up to several square kilometers with cellular technology). They are equipped with an automated communication system to send messages to phones (*) that have an App installed or that have previously registered via a website.
 * Personal communication requires the express permission of the receiver according to legislation in each country.
Different node configurations depending on needs and objectives
Basic nodes (using wifi, bluetooth bands)
Nodes detect signals from mobile devices in the bands 2.4 to 2.5 GHz and 5 GHz.
Detect visitors in a 15.000m2 range.
Unique and anonymous offline identification, synchronized with online identification.
Override ramdom mac problems of wifi tracking solutions
Allows to send proximity messages to phones with or without APP installed
Advanced nodes (WiFi + Bluetooth + Cellular bands)
Along with the above, these nodes cover the 800-900 MHz and 1700-1800 Mhz bands. They allow to obtain the determine of visitors within a radius of several miles.
Wireless sensor counters
Presence sensors that connect wirelessly to a Seeketing node to obtain a data count like that of other systems based on cameras or laser sensors (footfall type). This improves the integration with other data sources and lowers the counting system cost by half.
Battery operated or powered to 110 / 240v
iBeacon fed 110 / 240V
High quality (maximum duration and coverage) iBeacon Bluetooth, which cannot be hacked by third parties and requires no on-site maintenance. This allows remote configuration.